`Imiloa Astronomy Center - Hilo, Hawai`i
       •   Producer / Programmer of 3D Stereoscopic 8k Full-dome technology
       •   Freelance Graphic Artist
In the sleepy town of Hilo, Hawai`i, the residents look towards the starry skies and down to their feet on hardened lava and wonder, 'Where did we come from?' `Imiloa Astronomy Center teams up with the astronomy observatories of Mauna Kea and the world, and Hawaiian communities, to seek out and explain the answers.


Producer / Programmer
I served as the Planetarium Producer / Programmer. As Producer and programmer, I created content for the full dome environment. The content came in the form of:
• graphics to be displayed in/on the dome,
• program all Digital sky content presentations (Digital Sky by Sky Skan, refers to a large database that displays images of what exists in the sky and space in 3 dimensional space),
• program 'immersive' shows including Digital Sky, Digital Universe Data Sets, graphics, video, recorded and live sound, and lighting,
• worked with and designed environments and shows for musicians, astronomers, and other special events and guests.
Much of the content and programming that I created, lives within the system at the science center's planetarium and is still in use today (and is unavailable for my use). Unlike traditional 2D graphics, graphics for domed environments must be adjusted to appear properly on a three-dimensional surface.
Planetarium show-open bug:  " `Imiloa Sun "

This animated graphic which was created initially with Photoshop, Illustrator and Apple Motion / Shake (eventually morphed in After Effects [DomeXF plug-in by Sky Skan] for use on the dome)
is shown prior to shows produced by `Imiloa.
Informational Dome Title Example
Much of the work I was tasked with was to create 'dome title' or informational text to display in the planetarium / theater. Prior to my arrival at the science center, they had simple, plain Arial titles. I moved their graphics forward by creating more robust graphics with highlights and drop shadows on text and included images and some were animated.
Graphic Designer / Artist
I also served as their in-house and freelance graphic artist. I produced:
• kiosk displays,
• postcards,
• posters,
• signage,
• marketing material and advertisements,
• departmental presentation materials.
In early 2008, astronomers, planetarians and the science community were invited from all of the world to participate in the reopening / relaunch of the `Imiloa planetarium. The relaunch of the theater was to introduce the new 3D Stereoscopic 8k system and featured the capabilities of the new system, as well as, talks and sky tours by world renown astronomers. The relaunch also offered participants dinners and luncheons, tours of Hilo, Volcanoes National Park and Mauna Kea and the Observatories, and the world premiere of the first 3D stereo show: 'Dawn of the Space Age' by Mirage3D (Robin Sip)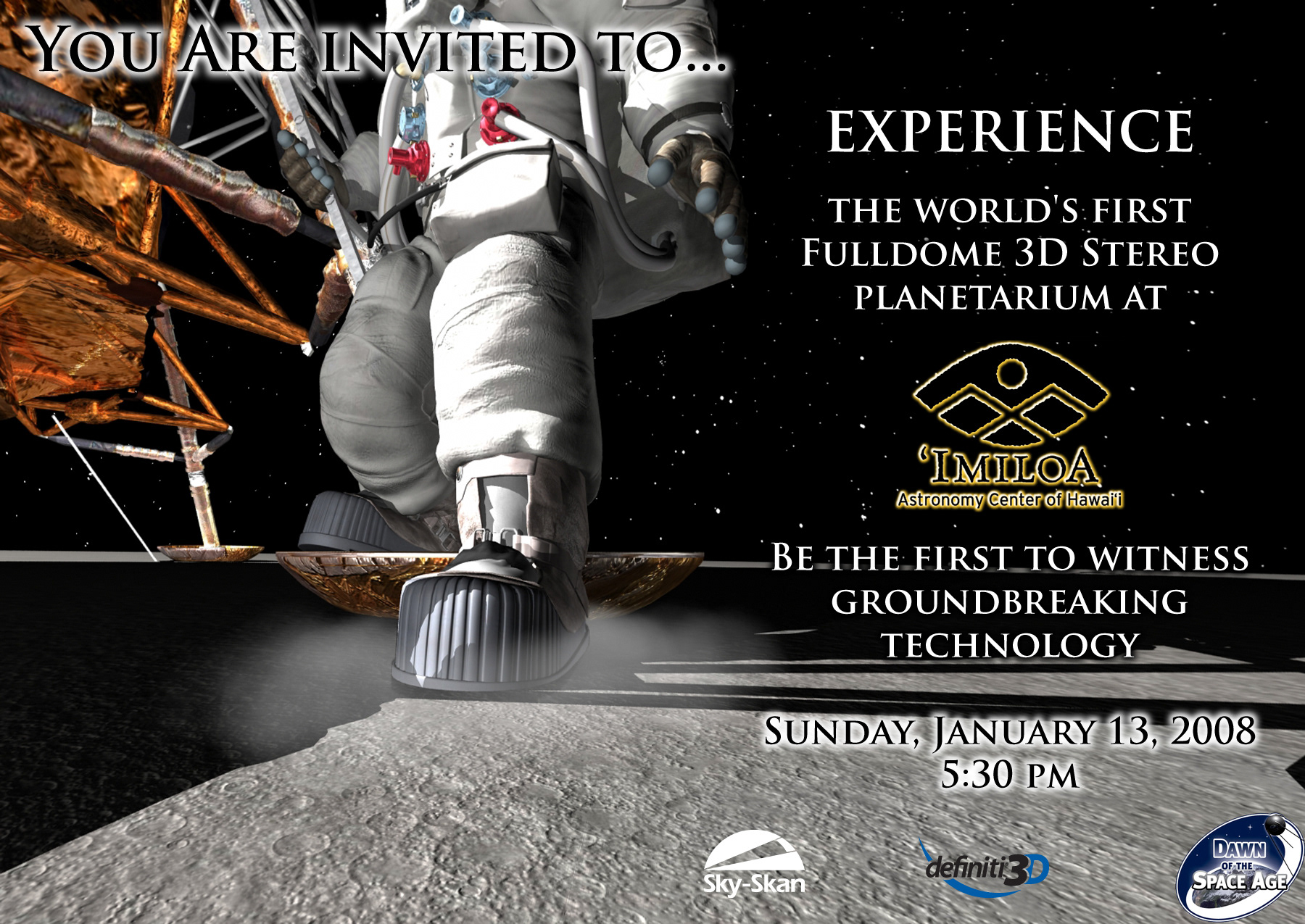 Hawaiian Navigational Star lines and Star Charts
Participants of the Planetarium relaunch were given a gift bag with this 'Hawaiian Starline' guide.
My participation in this project consisted of art direction, creative design, and production. Featured are the Hawaiian 'Starlines' used for sea navigation. Details of the starlines can also be seen on the `Imi Na`auao poster, below.
The starline guide is laid out over 4 / 8 panels (folded with inside gate). Images of Lauhala (hawaiian grass mat) and Tapa Cloth (pounded Paper bark) by Sharon Ryba. Image of 'Voyage of the Navigator' on inside gate by Clayton Young.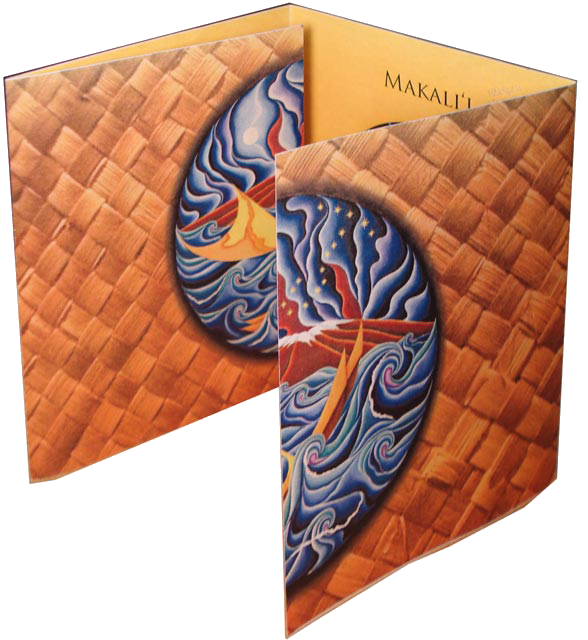 `Imi Na`auoa Navigational Workshop
This exclusive navigational workshop was offered to canoe clubs which utilize ancient techniques to navigate the seas. Looking to the stars, planets, and horizon during the year, were used by ancient Polynesians to navigate their way to discover new lands. I was honored to be able to create the First Ever guide to feature these starlines together for navigators.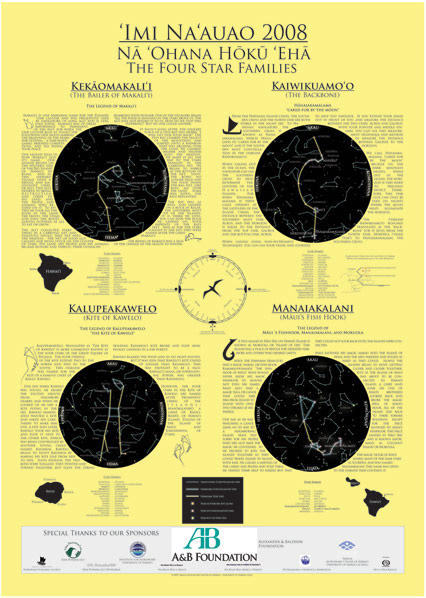 My participation in this project consisted of art direction, creative design, and production. The client provided copy and photo library.
The goal of the project was to inform the senior community members about `Imiloa's Kupuna membership plans and to encourage them to join.
The brochure is laid out over 4 / 8 panels (folded with inside gate) and includes coupons and a membership application.